We're not just
a
car dealership for bad credit, we are
the
car dealership for bad credit. "Why?" you ask? Because our policies aren't built on serving only a select group of people with perfect credit. We get that life happens whether we want it to or not, so we want to be the go-to shop for anyone who has less-than-perfect credit.
Dings, dongs, and scrapes on your credit shouldn't infringe upon your ability to access new Honda cars for sale. Here at Great Lakes Honda in Akron, OH, you'll find that we don't have a problem helping out.
A Car Lot for Real People
Everyone loves the prestigious and spunky Honda Civic. But not everyone has a perfect credit score that will help them get in the door to get one. When you walk into our car dealership with bad credit, you won't be barred from our cars for not having a score at the 800 level.
Let's face it. We'd all love to be billionaires who can't even tell you the price of a pizza because we make so much money. But most of us are your everyday, average, hard-working Ohioans who are merely trying our best to get all the bills paid off in time. We know how it feels to miss something along the way and receive a negative mark on our credit as a result. That's why we became the go-to car dealership for bad credit in the first place. We don't believe anyone should be punished for being human and not having a perfect credit score. That's simply not how life works. That's definitely not how business works here at your leading car lot for bad credit in Akron, OH.
Used cars, certified pre-owned models, and whatever else it is that you need, you can get it with a little help from us, an understanding car dealership for bad credit.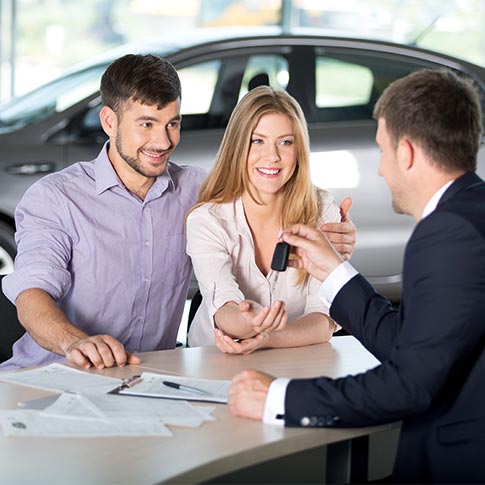 Bad Credit Auto Loans
If you come to visit us and fall in love with the Honda CR-V, let us take care of money matters for you. Our team of financial experts is well-versed in getting loan approvals for people who need them.
Our attraction doesn't always confer with our wallets first. It's all too common for people to fall in love with a car that they might not be ready to pay off without assistance. That's why we make it our mission to secure viable auto loans for you, even if your credit isn't as great as you'd like it to be. We also have vehicle specials going on all the time to make money matters that much easier for anyone who comes in looking for a car. Your wallet or credit score might not instantly agree with you, but our auto loans give you a new option!
Other bad credit car lots near you might tout their helpfulness to people who have bad credit but fall short of your expectations. We find that the competition has a very limited offering of financial solutions and vehicles. When you shop with us, you won't have to be limited to just our selection of cars under $10,000 because you think that's all your credit will afford you to do. Though our selection of affordable vehicles is quite impressive and curated with dedication, we know that it's not for everyone. That's why we offer to sit down and show you financial solutions that are designed around your ideal vehicle desires.
Seeking Car Dealerships That Work With Bad Credit in Ohio? You Only Need One: Us.
When it comes to seeking out a car dealership for bad credit, we believe you know who to go with. Great Lakes Honda doesn't just talk a big game, but we walk the walk every day in every business dealing we encounter. Bad credit doesn't need to hold you back from getting the car of your dreams. Bad credit doesn't need to hold you back from shopping at an OEM-affiliated dealer with a solid reputation for offering extraordinary customer service. Here, you won't be held back due to life's unavoidable pitfalls. We don't just call ourselves a car dealership for bad credit. We are a car dealership for real people who need real solutions. Visit us for help getting a car or securing an auto loan today!
Finance Center
Apply For Financing
Contact Us
---
FAQs
Do you offer in-house insurance services?
Yes, we offer in-house insurance with Allstate, so you're always in good hands!
Are you a Capital One dealer? Who are your lenders?
Through our website, you can get approved for financing by Capital One. However, they are not the only banking entity that we use. We have nearly 30 options for banks, so that everyone has a shot at being approved. If you have a specific idea of a bank that might work well for you or one you've had good dealings with in the past, let us know.
Do you beat USAA and other credit unions?
The rates we get for you will depend on your specific financial situation, needs, and credit history. What we offer is usually incredibly competitive and fits your personal circumstances.
Do you approve everyone?
We practice applicable fair lending laws, ensuring those with the appropriate credit histories and incomes can access approvals. Some individuals might end up needing to put down a bigger payment up front than others, depending on the credit history and varying factors. In addition to an assessment of your credit history, we typically look at your paystubs, proof of residency, and driver's license before we issue a loan status. If you are currently behind on any payments for credit cards, other auto loans, or if you are a temp employee, this could impact your loan status.
Do you have any perks?
If you have the Great Lakes license plate border, you can access free car washes from us! Otherwise, we are committed to helping people repair their credit by giving everyone a chance to reestablish good credit and develop good financial habits that will positively impact their credit score.